About Us
Meliora Capital is an independent investment advisory firm founded in 2014. Headquartered in Tulsa, Oklahoma, we serve a diverse range of clients across the country. We serve our clients with separately managed accounts and focus on a select group of securities.
J.P. Szafranski, CFA – Chief Executive Officer & Chief Investment Officer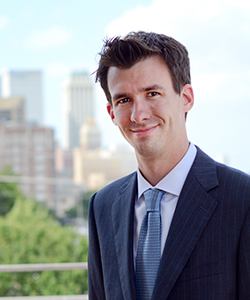 J.P. Szafranski is the founder of Meliora Capital.  He serves as CEO and CIO for the firm.  As CEO he directs the company's strategic initiatives and oversees all aspects of the business.  As CIO, Mr. Szafranski manages the security selection process for the firm's actively managed strategies.
Mr. Szafranski is a CFA Charterholder and began his professional career in 2005. He graduated with Special Distinction from the University of Oklahoma with a Bachelor of Business Administration in 2005. Upon graduating, Mr. Szafranski worked for IBM in the Business Consulting Services segment. In the six years prior to founding Meliora, he worked at Pinnacle Investment Advisors fulfilling multiple roles and responsibilities as a financial analyst and portfolio manager, concentrating the majority of his efforts on the Master Limited Partnership (MLP) sector.
J.P. lives in Tulsa, Oklahoma with his wife Maggie and their five sons.  He is actively involved in the community, including serving as coach for his sons' various youth sports teams.  He currently serves on Bishop Kelley High School's Finance Committee. J.P. has previously served as Board President for Marquette School's RISE Program and as Treasurer for Marquette's School Advisory Council.